Vikye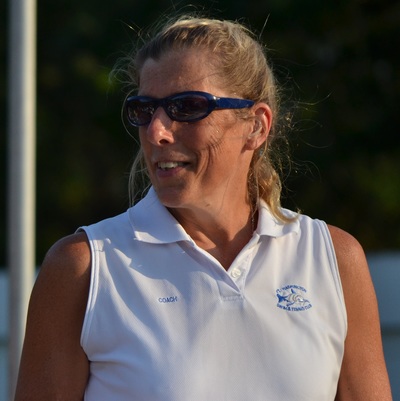 Vikye Swanson has been Head Coach of the Sharks for over 30 years! She loves the sport of swimming, has competed on the collegiate level and continues to swim and compete at the masters USMS level. Vikye believes that swimming is a lifelong sport that can be enjoyed by all. Her philosophy on training at the summer club level is that good technique in all four strokes is paramount to success. Vikye is a retired French/ German teacher from Central Bucks East, continues to coach Central Bucks West swimming, and helps at UDAC when she is not with her Sharks.
Deanne
Coach Deanne is in her third season at Fort. Some of her fondest childhood memories are associated with summer swimming. She swam for Harleysville Swim Team in the Bux-Mont League, where she also coached in the late 90s and early 2000s. She had a successful high school career at Souderton Area High School where she was an All-American in several events. She went on to swim at University of Maryland before transferring to Cornell University. She was a national level swimmer in the 100 breaststroke.
Deanne got back into coaching when she returned to Souderton to coach the high school team from 2015-2019. She also coaches in the winter at Wissahickon Community Aquatic Club. She enjoys teaching the fundamentals of swimming as well as technique refinement.
Deanne currently works as a per diem pharmacist but feels like she's in her element on the pool deck. She's excited for another summer with the Sharks!
Kaitlyn
Kaitlyn is a lifetime shark who graduated from Upper Dublin High School in 2018. While attending Upper Dublin High School Kaitlyn was a member of the National Honors Society and swam for Upper Dublin High School varsity swim team. In 2016, Kaitlyn received the Patrice Ehmann Memorial Shark award and in 2018 received the CJ Martin Scholarship. Kaitlyn began her coaching career in 2016 as a volunteer coach. Since 2018, Kaitlyn has been instrumental in developing and running the Mini Sharks lesson program. In addition to her Fort coaching, Kaitlyn has been a coach with the Upper Dublin Aquatic Club. She is now a USA certified assistant swim coach for UDAC. In addition to coaching, Kaitlyn is the director of the Little Dragons Swim School at UDAC.
Kaitlyn graduated Rosemont College in 2022 with a dual degree in Elementary Education and Special Education. Kaitlyn currently works in the Abington School District as a Special Education teacher.
Karen
Karen joins us this year as our Head Diving Coach. She has been involved in swimming and diving for about 50 years as a swimmer diver, parent volunteer and coach. Most recently she has been coaching swimming and diving at the Centennial Aquatic club from 2014-19 and diving at WCAC during the 2022-23 winter season. At Fort, she has filled in to assist with diving the past several years. She looks forward to joining the coaching staff at the Fort where she has been involved in the summer programs for over 30 years.